About St. Francis Episcopal
At St. Francis you will find a church home in Palos Verdes where you can enjoy warm, friendly fellowship and a place to connect and grow through transforming relationships with God and others.
Whatever your situation, we offer a safe place to express doubts, ask questions, and find answers.
Our Vision
We strive to be a diverse and nurturing faith community, radiating God's love and peace in our ministry to the world, and welcoming everyone to active worship and service.
Our Mission
We welcome everyone to worship God together, to be transformed by the Holy Spirit and each other, and to share the light of Christ in the world.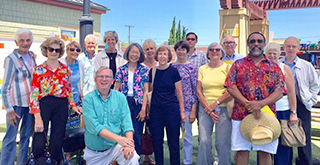 Love provides the energy!
Love provides the energy for all we do at St. Francis. Our clergy, our staff, and our many lay leaders are dedicated to making St. Francis a place where we love God, love others and serve the world.
Our Mission and Vision statements underly our worship, our service (both within and beyond our walls) – and of course our fun!
Meet our dedicated clergy, staff, vestry and Ministry Council members here…
Looking for a new place to worship?
Whether you are a long-time member, new to the area, looking for a new place to worship, or curious about the Episcopal tradition, we invite you to contact our Rector, The Rev. Jason Shelby, to schedule a face-to-face meeting in his office. We are eager to hear from you and want to get to know you. By meeting with The Rev. Jason in person, he can share with you everything we think makes St. Francis special as a place where you an experience meaningful connection with others, serve our community, and continue to grow spiritually. You can read more about The Rev. Jason here. Email jason.shelby@stfrancispalosverdes.org or call 310-594-7984 today!